Happy Valentine's Day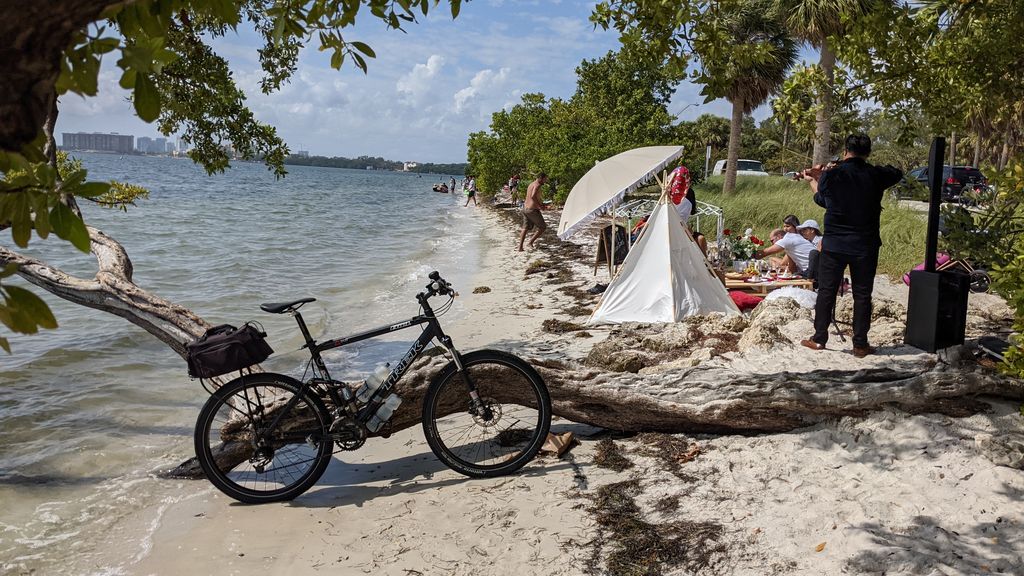 The beaches all along Key Biscayne were jam packed with Valentine's Day festivities. Some more extravagant than others, the picture above has a man playing a violin. The tune he was playing is called Besame Mucho, in English it means kiss me a lot, one of my Mom's favorite songs.
Norris Cut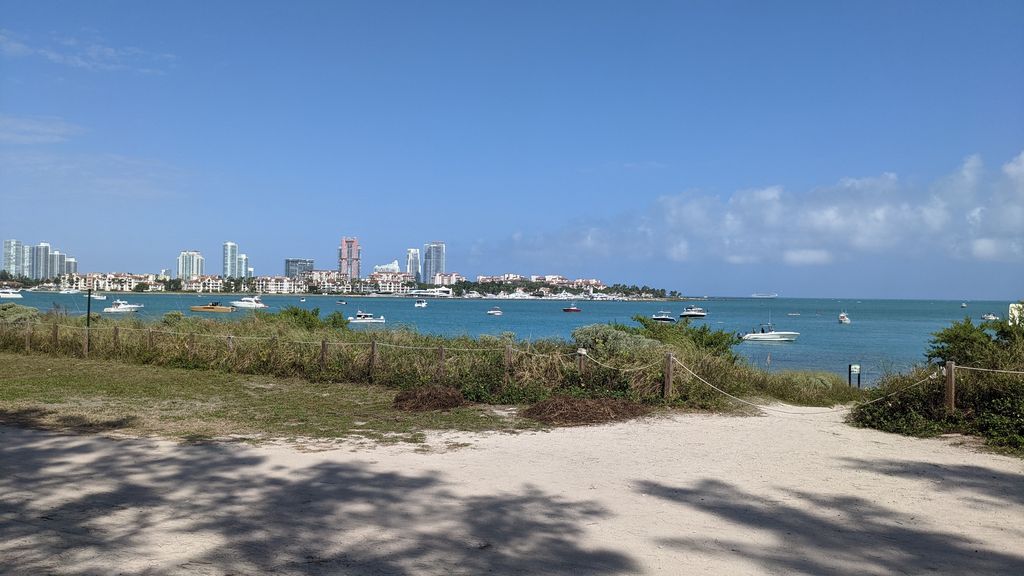 Spent most of my time on this great weather Sunday at the Virginia Key Bicycle Club. Rode into camp to say hello to Frenchy, and then spent a nice time talking to a couple of avid mountain bikers at the trails entrance.
We watched bikers enter the trails, old and young, experienced and beginners, nice mountain bikes and street bikes that didn't belong on the trails. Made new friends while enjoying the view of Fisher Island and the many boats in Norris Cut.
Virginia Key Outdoor Center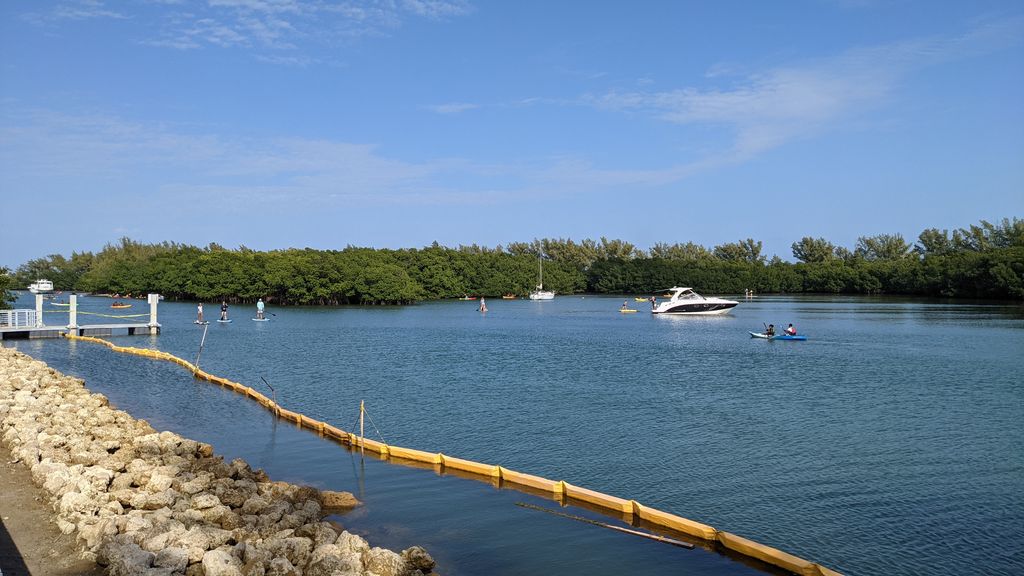 While heading out, I stopped at the Virginia Key Outdoor Center, the picture above is where the kayaks are launched. They rent kayaks for adventures in the water, and mountain bikes for those wanting to tackle the trails.
Virginia Key has a lot to offer Miamians, and it's so close that it takes me only a half and hour to get there by bike.
distance 15.91 miles
---
Sunrise at the 12th Ave bridge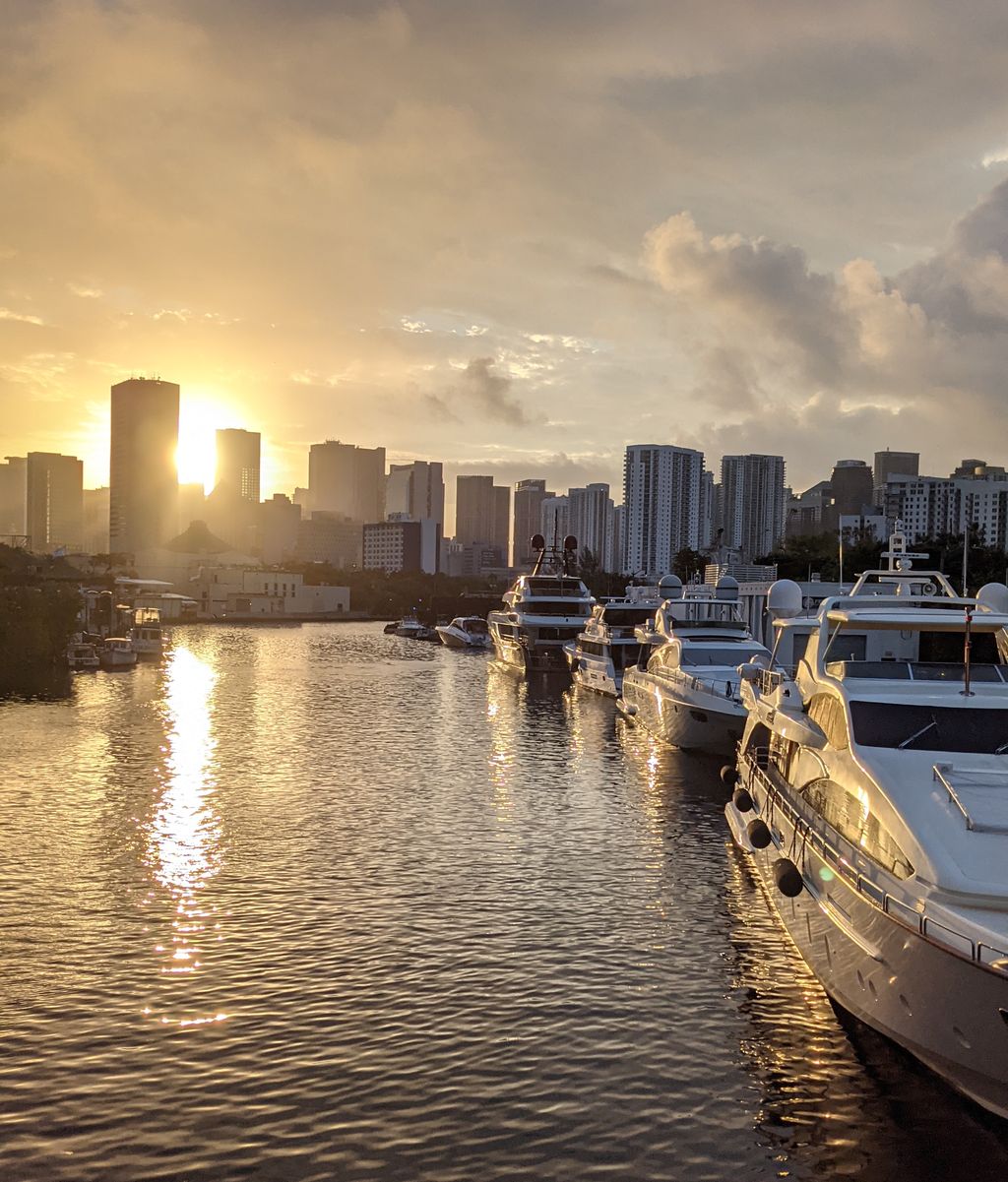 Woke up and wanted to see the sunrise, so I headed a few blocks over to the 12th Ave bridge. Those yachts on the right party hard at night, the music is super loud, you can hear it clearly from across the Miami river.
I love walking around, it gives you an even better feel for your surroundings than biking does.
Have not encountered any issues in this city, yes we have homeless, but they are harmless and only ask for some change or a cigarette.
South Pointe, Miami Beach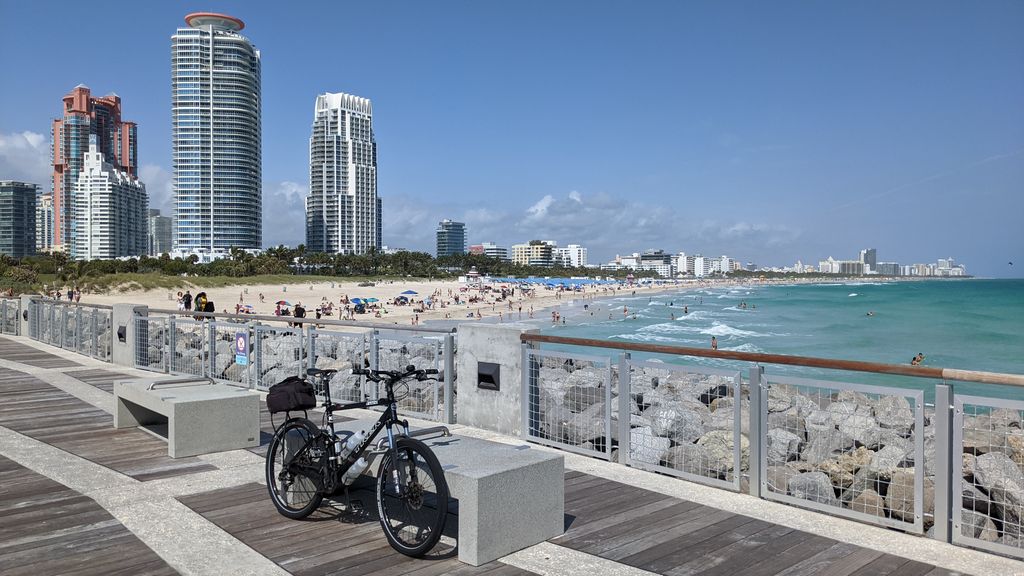 Had not gone to South Pointe in years, I did not recognize the southern end of Miami Beach. For the life of me, I didn't know there was this much land to build huge skyscrapers on.
Riding the boardwalk that meanders along the rear of the posh hotels, with their open air restaurants and glistening pools, reminded me of the Miami Beach of old.
Caught a glimpse of Annette Funicello by one of the pools ;)
Key West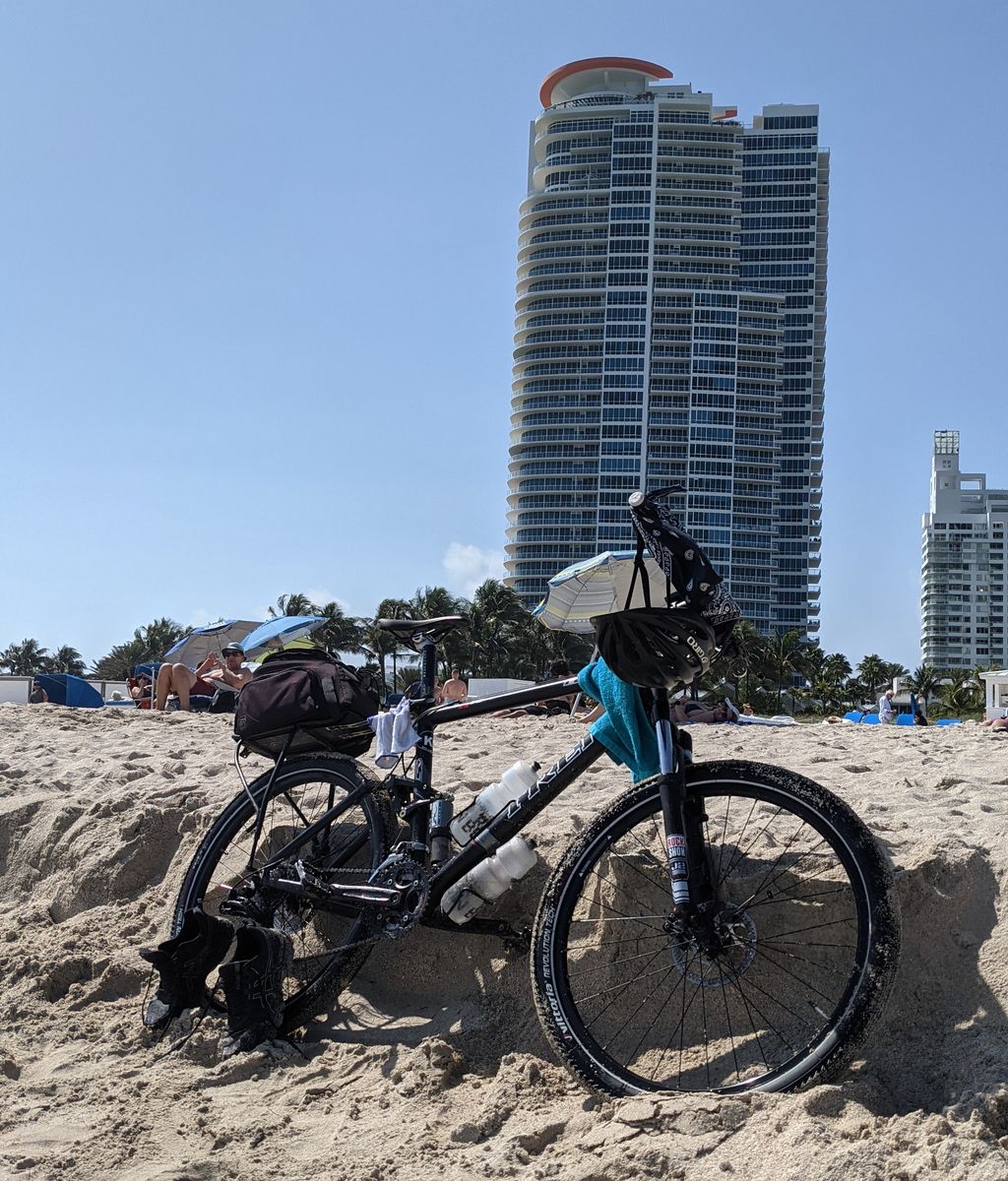 Couldn't leave this week to Key West, the weather was not cooperating and my feet needed to recover from that long freaking walk I did 2 weeks ago.
Going to the beach today and walking along the shoreline barefoot cured all my ills. The small toenail that was deciding on staying on or coming off, finally came off. The blisters that erupted along the 25 mile stretch from Miami to Homestead are better now, and any dead skin was evaporated in today's surf. No pain, no gain, right?
So Key West is on, the weather looks good for a Wednesday (17) to Thursday (18) bike ride next week. Still want to take off from the Caribbean Club in Key Largo and ride to Sombrero Beach on Wednesday.
On Thursday morning I'll be able to see the sun rising up for the duration of the 30 minute ride over the 7 mile bridge, gotta time the morning's departure just right.
distance 21.50 miles
---
Betty Wynwood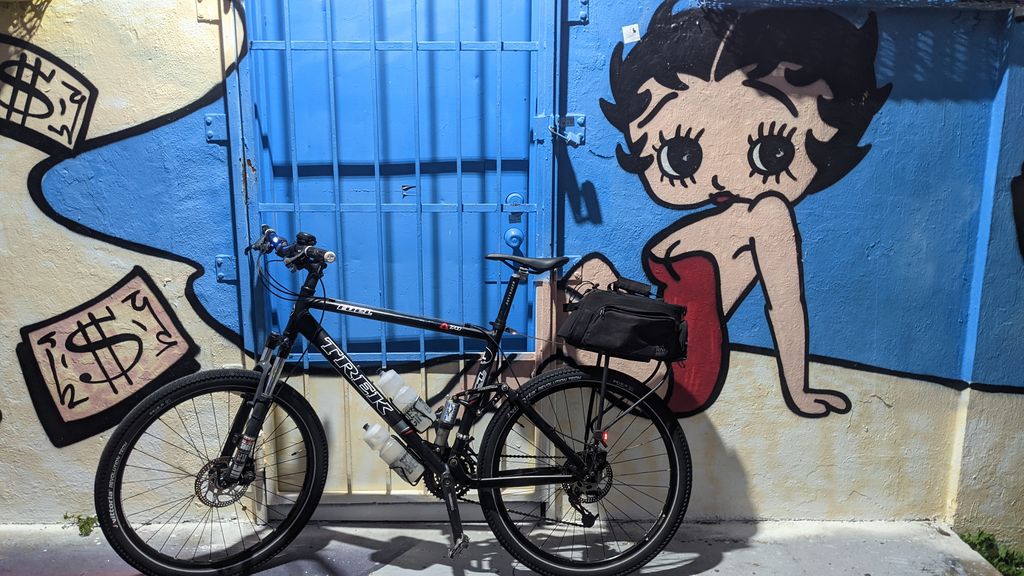 Picked up Betty for a ride around Wynwood, an artsy part of Miami, one where I hadn't ridden to in years.
Wynwood, trying to be Haight-Ashbury, in a metro like Miami.
One thing it has in common with San Francisco are the prices.
Fuck Wynwood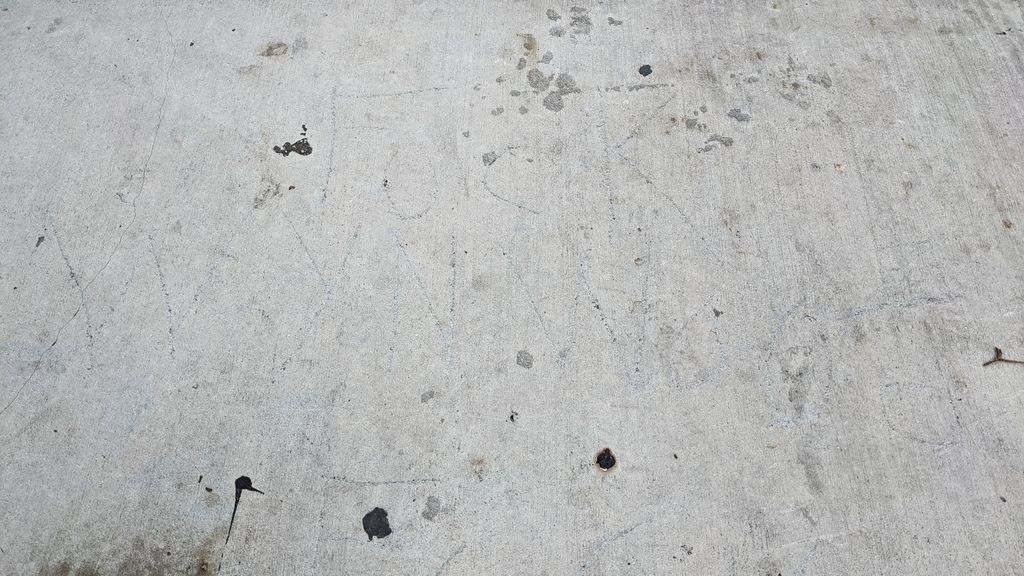 Outside my apartment building in Little Havana, carved into the driveway.
Didn't quite know what to make of it at first, but now I understand.
distance 8.94 miles
---
Key Biscayne Bridge View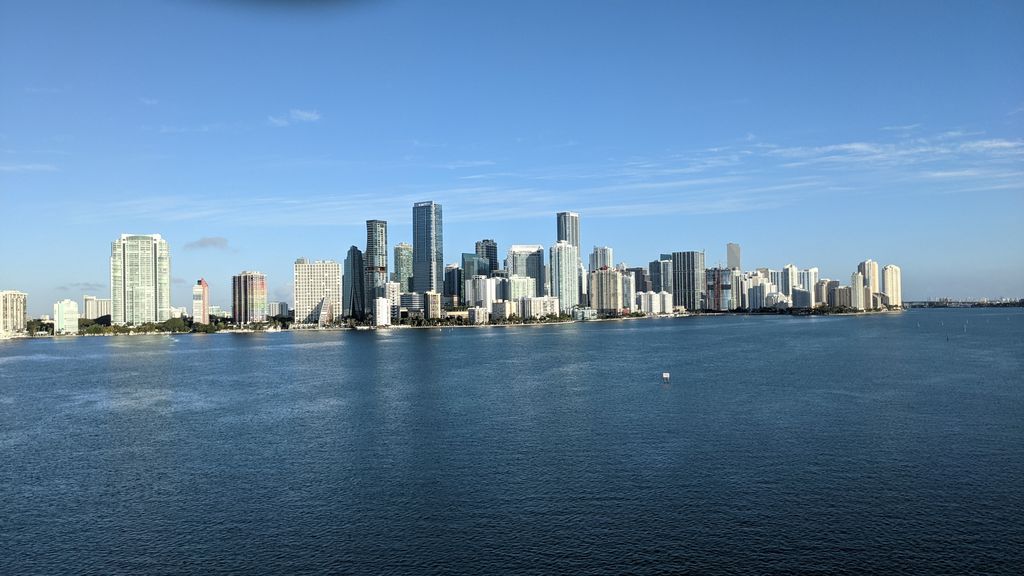 With new tires, the bridge was a bit easier to climb and descend. Hadn't wanted to speed going down on the old tires, but now getting up to 30 miles an hour going down is a lot of fun.
Key Biscayne Harbor Drive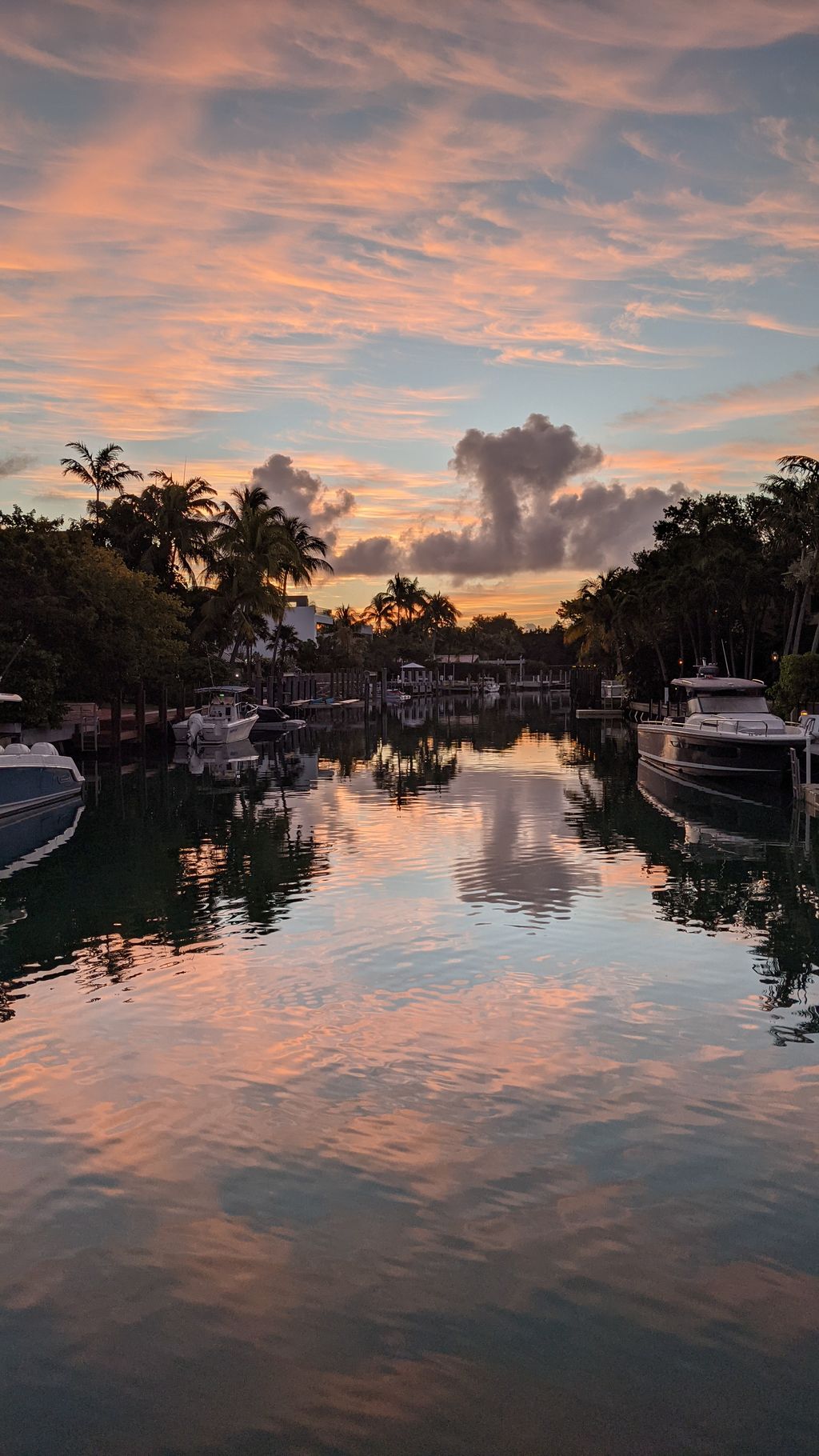 Decided to venture into the neighborhoods along Harbor Drive. Nice ride, got lost, found some bikers and followed them, they got lost also. We finally found W Mashta Drive and got out that way.
distance 24.89 miles
---
South Beach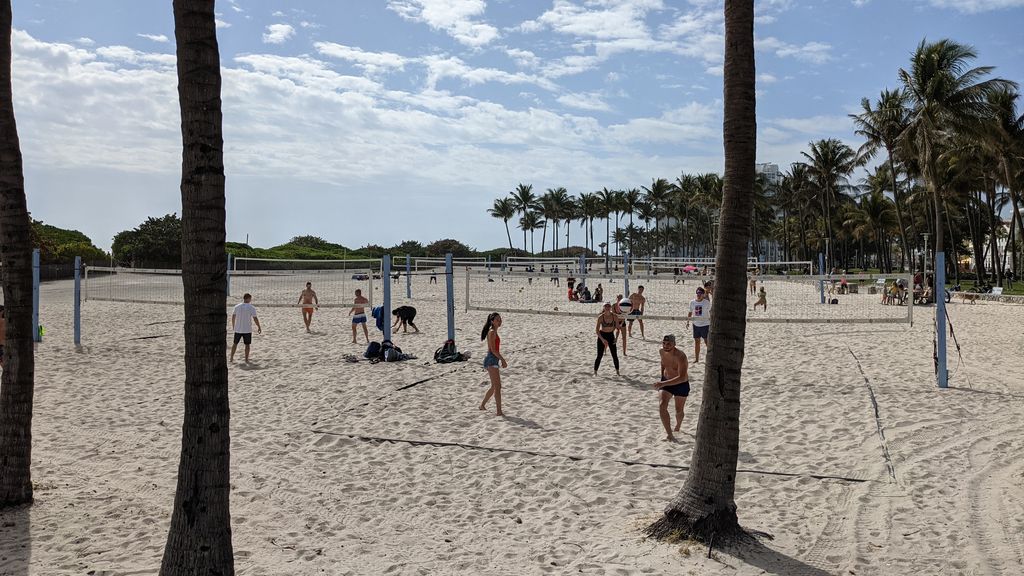 Rode out to South Beach to visit an old friend, while there the sky opened up.
Before …
Leather Lady
When I arrived in South Beach, I headed to the beach to people watch.
While seated at one of the many benches along the walking path, this leather skinned lady, like 10 feet away, started to rummage through the garbage cans. She pulls out a cup from Starbucks, starts sucking out what remaining liquid it may have, keeps doing it with every cup she finds.
Then she sits down on a bench a few feet away and proceeds to straighten a small cigar she must of found in the garbage. Then, without even looking around to check her surroundings, she begins to pee, yellow waterfalls coming through the slats of the metal bench. In her confusion, she drops the cigar into the pee. She bends down slowly, picks up the pee soaked cigar and continues to straighten it out.
It was at this moment that I decided to put my gear on, I'd had enough people watching. I pulled out a Parliament from my cigarette pack and handed it to the leather lady before I rode out to visit Val, another day in paradise.
Cuba Libre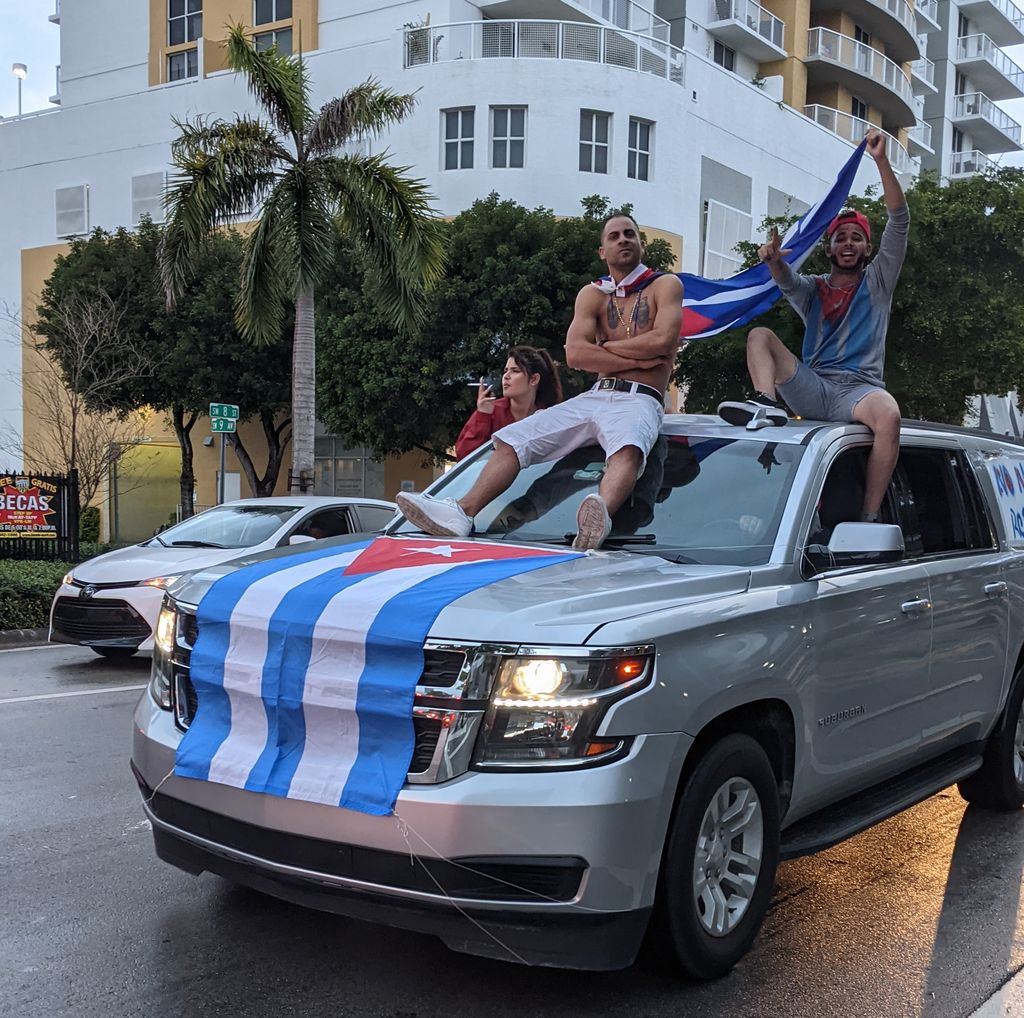 After the rain stopped, a long 2 hour storm, I headed back to Little Havana.
As soon as I turned west on 8th Street, from Brickell, cars were steadily honking, many waving American and Cuban flags. I thought it was a Trump rally, after seeing Trump 2020 flags, but it appeared to be a demonstration for President Biden to free political prisoners on the island of Cuba, and of course, bring Democracy to a Socialist country.
That would be cool, a free Cuba, I'd live there.
distance 18.80 miles
---